I'm so excited to have another giveaway for my readers and for brides looking for compact makeup for their honeymoon. When you're packing for your honeymoon you don't want to take everything, but you do want to take what you need. Here is Maritza from HoneymoonBag to tell you more about today's giveaway that was inspired by her wonderful honeymoon bags....
Eye Shadow Giveaway...
"It's important to put some careful thought into your honeymoon packing due to today's carry-on and check-in restrictions. More then ever, the space in your bag is prime real estate. Focus on packing stylish items that are going to work double-duty magic. Today's giveaway is brought to us by the Honeymoon Bag, and is inspired by its sassy, multi-performing namesake travel tote."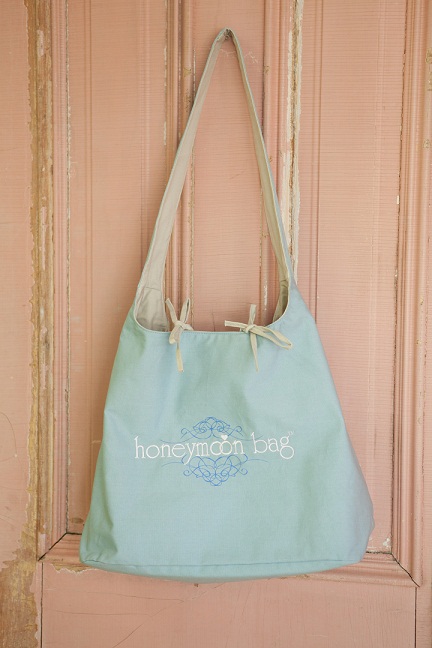 "The Honeymoon Bag is a chic and affordable, over-sized cotton tote perfect for carrying all of your honeymoon essentials from the plane to the beach! Best of all it's designed to do quadruple the duty by getting you sweet honeymoon perks, serving as your 'something blue', transporting your valuables in it's removable zip-lined mini-purse complete with adorable engagement ring icon (perfect for hotel keys, credit cards and cell phones) and reversing inside-out into a practical everyday bag after the honeymoon."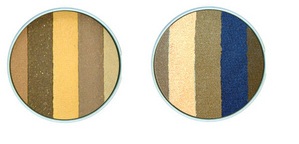 "Today's beauty giveaway **has similar appeal...super performing makeup! Our makeup giveaway consists of Eye Cakes by Pop Beautydesigned to take the guesswork out of eye makeup application and keep your eyes looking fabulous day and night. **Eye Cakes by Pop Beautyprovide unique color combinations to enhance and bring out your eye color. This giveaway includes two eyeshadow kits and a professional makeup brush. The first kit is Blue Eyes (a fun mix of sparkling midnight blue, warm wheats, gilded nudes and a gold nude shimmer) the second is Green Eyes (includes a deep olive liner, lemon gold, olive brown and golden nudes). Each Eye Cake includes five shades to bring out the precious hazel, green, blue or golden brown in your eyes. The nude coordinates also make transitioning from day to night totally easy."
Please leave a comment below and follow HoneymoonBagand Wedding.Allwomenstalkon Twitter and leave a comment saying you do. Next Monday we will randomly choose a winner, hopefully it will be you!
Maritza Buelvas, designer
the "h o n e y m o o n b a g" tm
www.honeymoonbag.com
Purchase the Honeymoon Bag using Pay Pal Link Below:
paypal.com
Follow us on twitter: www.twitter.com/honeymoonbag
---
Comments
Popular
Related
Recent