Now that we have the ladies all set for their beach destination honeymoon, lets talk guys! Most of the guys we know don't really have the need for too much, that's why the essentials really matter. Will one of these 6 items from J.crewfit into your hubby's honeymoon style...
---
1

Swim Shorts...

Price:$44.50

You're going to the beach on your honeymoon, **which means your sweety is going to need an awesome pair of **swim trucks. This **cargo board short **fromJ.crewis stylish yet simple. He can go swimming, surfing, or just relax on the beach with his new love...that's what honeymooning is all about!
---
2

Flip Flops...

Price:$29.50

What's a good board short without a good pair of **flip flops **to walk down onto the sand in? These brown, leather ones fromJ.crewlook **comfortable **and cool, now doesn't every man want that!
3

Ray Bans for Your Man...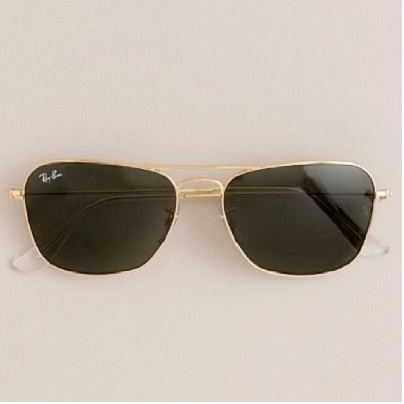 Price: $125.00
Since we're already talking about cool, you know your guy has to have the coolest, hottest pair of** sunglasses **for his honeymoon! I'm loving these **Ray Bans **from J.crew and I think I know just the guy who would love them too! Happy Birthday Honey!
---
4

Dress Shorts...

Price: $49.50

When we're on our **honeymoon **we want to be able to dress them up and take them out so they look just as nice as we do! With this J.crew**chino dress short **your new husband can feel **casual **without knowing how handsome he really looks. Make sure you pack his dress clothes because you'll want to have a nice night on the town!
---
5

Don't Be Late...

Price:$150.00

We can dress them up, but can we get them there on time? Maybe when we buy him this Timex**vintage army watch **from J.crewfor a wedding gift he'll make sure he's never late again!
---
6

Boat Shoes...

Price:$98.00

Your guy loves to sail **and ride along the ocean waves and can't wait to take you out to watch the sunset on your **honeymoon. While you're out sailing he'll need the perfect pair of shoes to glide along those boards like these Sperry Top-Siderbroken in **boat shoes **from J.crew. Perhaps you can find yourown pairto ride along in style!

Has your guy found his essential items to take on your honeymoon?

Photos: Jcrew
---
Comments
Popular
Related
Recent