Wedding cakes are often times the central feature at a wedding celebration. Most people set the theme of their wedding around the cake. Nowadays wedding cakes are not necessarily the traditional tiered versions with roses and bows all around. There are some interesting variations that can keep your guests chattering about it for months to come. Here are 7 amazing wedding cake designs.
---
1

A Magazine Cover Cake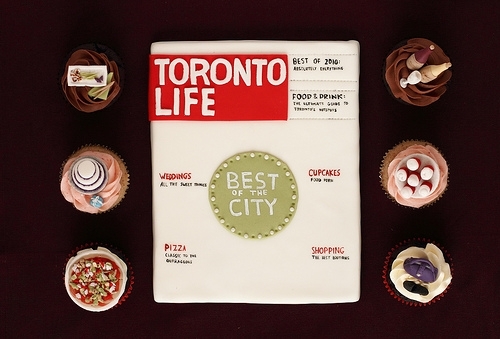 Photo Credit: Sifu Renka
This is a simple enough flat rectangular shaped cake but the top is designed as if it is the cover of famous gossip magazine. A picture of the couple posing together with headlines like 'Rob and Annie finally tie the knot' along with a few smaller photos of the couple enjoying themselves can offer a unique touch to your already fabulous event.
---
2

Cakes Representing the Couple's Interest

If a pair of musicians is getting married, a cake representing their interest is a wonderful touch. For example, a few accents like a fondant piano and guitar could really keep the theme going. A more committed choice is the entire cake being in the shape of a musical instrument.
---
3

Cakes Relating to How the Couple Met

Cakes that represent how the couple met or their favorite past time is also a wonderful touch. Say for example, the couple met at a Scrabble tournament, their wedding cake could be a Scrabble themed version with a beautifully laid out board and letters spelling out 'Congratulations'.
---
4

Cupcake Extravaganza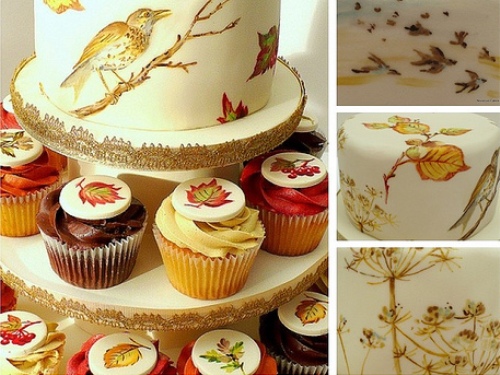 Photo Credit: neviepiecakes
A unique and highly successful option is a cupcake extravaganza. It involves a multi-layered set up of two to three different cup cake flavors. Guests can each pick a cupcake as their piece of cake and enjoy the slightly lighthearted feel associated with this type of cake.
---
5

Traditional Multi-tiered Cake

The traditional multi-tiered cake will probably never go out of style and there is no doubt that this offers the most varied of options. The shape can be round or square. The adornments can be anything ranging from fondant pearls, to roses, to ribbons, angels, fairies and other edible delights.
---
6

Bold Color and Design Cake

For couples that really want to make a statement, consider a wedding cake that has bold colors and a bolder design. For example a cake with geometric pattern in different colors will appeal to those whose taste ranges to the more colorful modern art type of scenario as opposed to more traditional flowery versions.
7

Themed Wedding Cake

If the wedding has a particular theme then the cake must fall in line as well. For example if the theme is the Wild West, then the cake needs to have a cowboy hat or some other design that corroborates. Alternatively if it is a Christmas wedding, the cake can contain a Christmas setting like reindeer and Christmas trees.

Wedding cakes provide an opportunity to make creative statements and set the stage for your entire event. Don't hold back when it comes to choosing a design that is different. Chances are you will not regret it in the long run.

Top Photo Credit: Sweet Tiers Cakes (Hester)
---
Comments
Popular
Related
Recent