Vera Wang may have started the trend of colorful weddings gowns, but now it seems that other fashion designers are catching on. I can't wait to see more real brides walking down the aisle in gorgeous gowns full of color. It looks like pink is the new ivory when it comes to the new bridal collections of Spring 2012. Will you be a pretty in pink bride wearing one of these gowns...
---
5

Lovely Vera...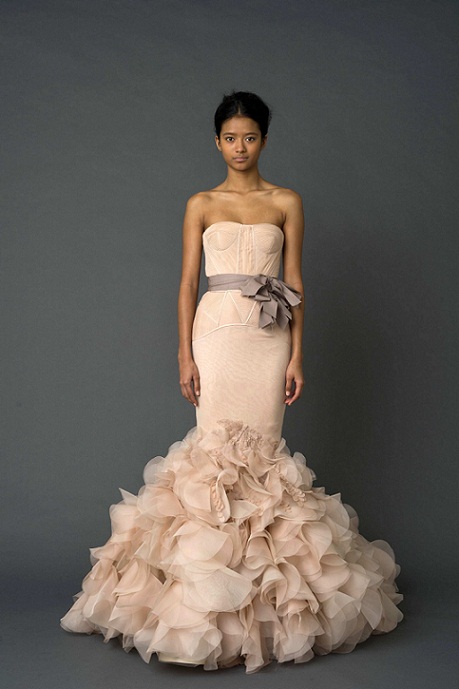 Photo: ProjectWeddingvia VeraWang
Vera Wangalways makes a statement with her stunning bridal gowns, so why would 2012 be any different for her! She was never afraid of color, tulle, or bold bows and sashes. I love the fit and flare style of this pale **pink wedding dress **with the petal like organza skirt, this is a dress girls dream about!
---
4

Oscar De La Renta...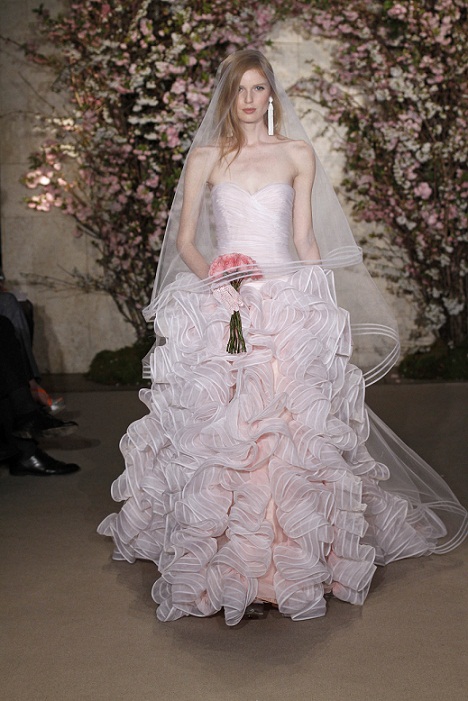 Photo: ProjectWeddingvia Oscar de la Renta
Pink can be fun, flirty, and romantic like this amazing gown from Oscar de la Renta, who is another designer never afraid of bold prints and loud dresses. Not only are you making an entrance with a pink gown, but with a full ruffled skirt like this your guests will never take their eyes off of you!
3

Monique Lhuillier...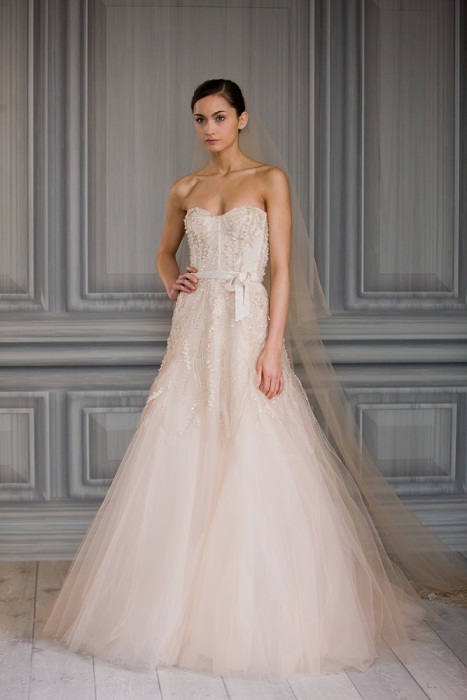 Photo: WeddingsUnveiledblog via Monique Lhuillier
Speaking of romantic! Do you ever have dress envy...well I think this lovely pink tulle gown from Monique Lhuillierhas me and my wedding gown jealous! But then again when a dress cost between $7,000 and $20,000 I remind myself how amazing I felt in my $1,000 dress!
---
2

Watters...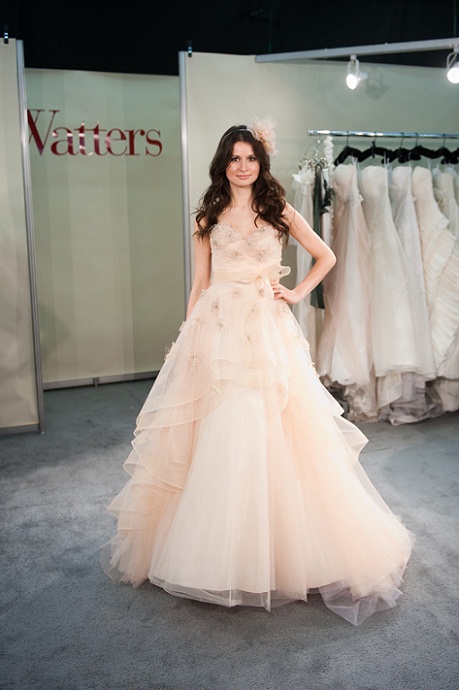 Photo: WeddingsUnveiledblogvia Watters
These **pink wedding gowns **just keep getting more beautiful by the moment! I love the layers and sparkling Swarovski crystals on this gorgeous gown by Watters. Her pink floral headband is the perfect accessory, no veil needed!
---
1

More Monique...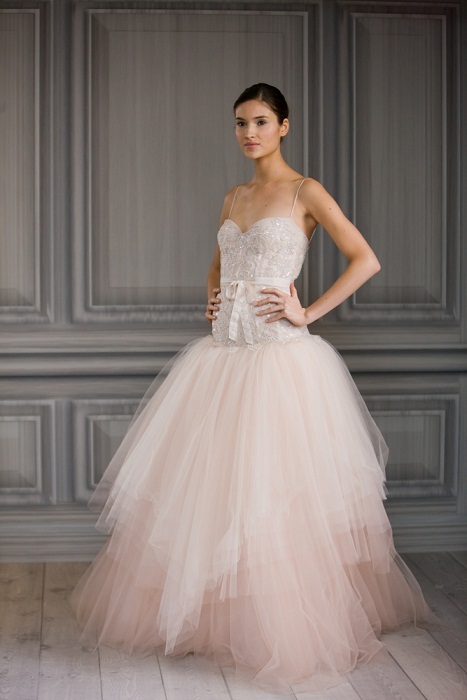 Photo: WeddingsUnveiledblogvia Monique Lhuillier
Another pink wedding dress from Moniquewith even more tulle than the first one pictured! This **pretty in pink **gown reminds me of a beautiful ballerina getting ready for her big performance. I love the dropped waist and corset bodice. Can't you just picture her with a wonderful brooch bouquet?
**Will you be wearing pink as you walk down the aisle? **
---
Comments
Popular
Related
Recent