Cupcakes are a very popular wedding cake alternative, not to mention they are fun to eat! Surprise your guests with a dessert cupcake bar or a tasty little cupcake on each plate. Here are 4 delicious cupcakes to consider having at your wedding...
---
4

A Flavor for Everyone...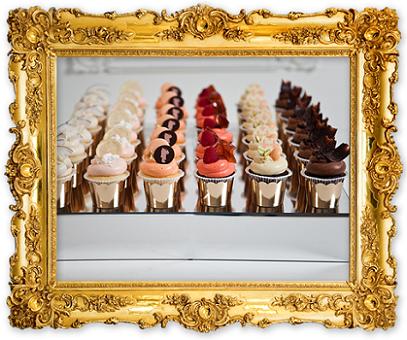 Photo: CakeOperaCo.com
Tasty, Pretty and Elegant. Give your guests an array of flavors to choose from like these delicious cupcakes made with chocolate, coconut, and vanilla. The pretty icing and toppings lure you in wanting more. Have you ever wanted raspberry, creamy toasted hazelnut, tart lemon, dark chocolate or coconut buttercream all at once! Will you have different flavors at your wedding?
---
3

Love in Every Bite...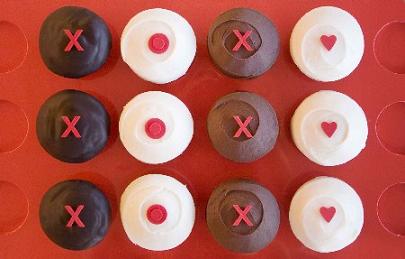 Photo: FastFood.OCregister.com
Sprinkles Cupcake opened the first cupcake only bakery in Beverly Hills and have created a cupcake on wheels mobile that can cater your wedding and do the work for you! They now have 10 other bakeries all over the states with more locations coming soon. Just like cakes, making a cupcake, putting on the frosting and designs, is a true work of art. Where do you buy your favorite cupcakes from?
2

Too Fun to Eat Just One...

Everyone has their own frosting technique and I just love this one from Magnolia Bakery in NYC. How cute are the sprinkles in the middle of the cupcake swirl! Cupcakes are just too fun and too tasty to eat just one, especially with **bright, yummy **colors like these delicious cupcakes! How many cupcakes did you eat on your wedding day?
---
1

That HomeTown Taste...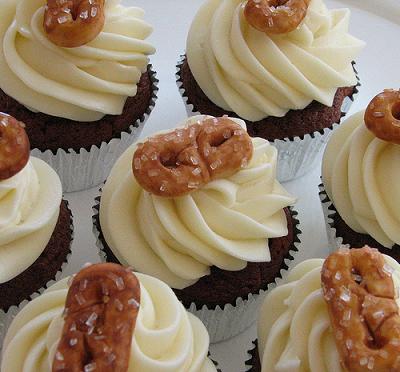 Photo: Whippedbakeshop.com
Give your guests a** little taste of home** with a sweet treat on top of their savory cupcake. I love the idea of this Philadelphia cupcake with the salty little pretzel on top the delicious frosting. Philadelphia is well known for their soft pretzels and this cupcake would really take your Phillies fans back home. Top your cupcake off with an apple crisp for New York City, a fondant shaped crab for maryland, or a fun candy star for Hollywood! Are your cupcakes personalized?
Will there be cupcakes to bite into on your wedding day?
Top Photo: WeHeartIt.com
---
Popular
Related
Recent