10 Things Every Bridesmaid Should do ...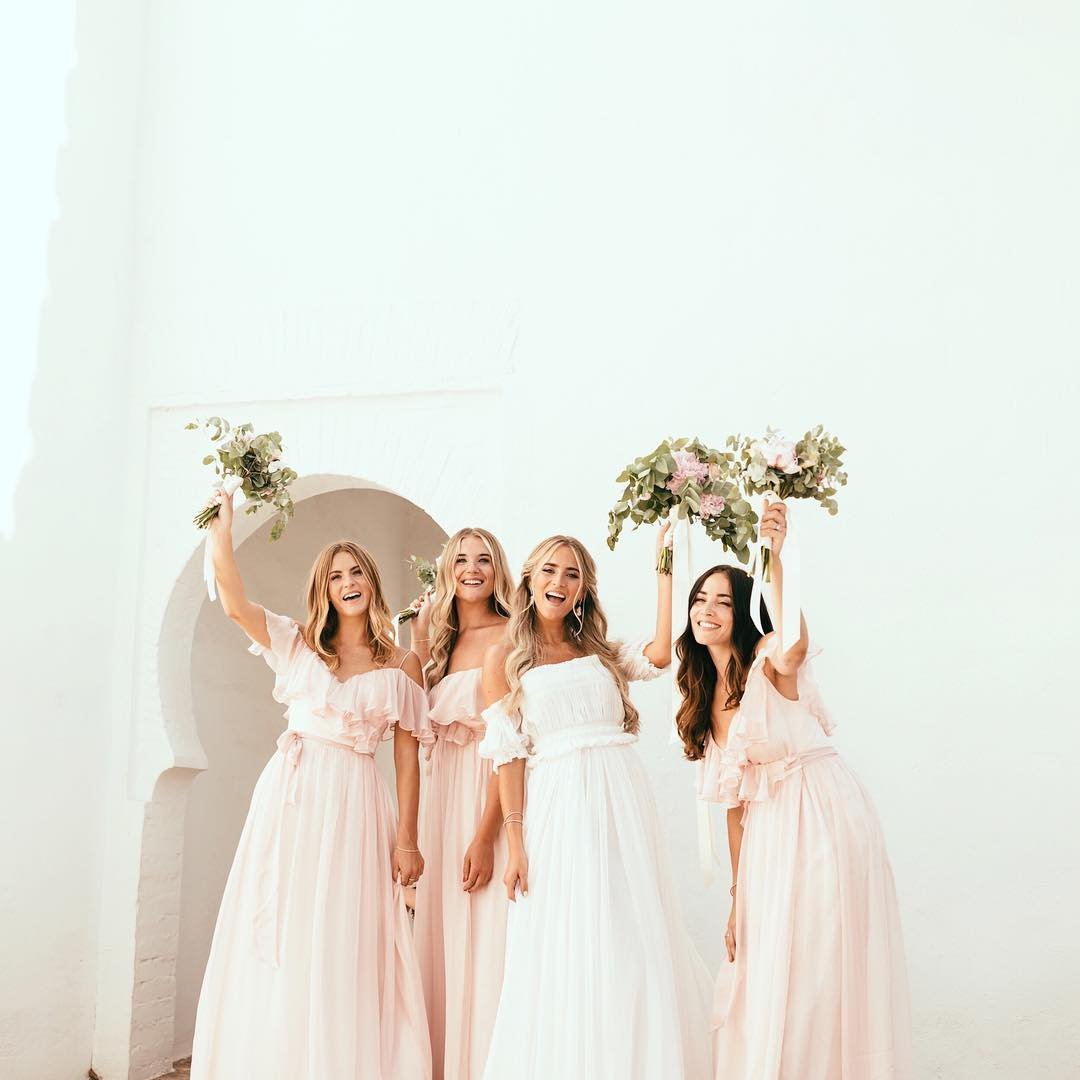 Being a bridesmaid or maid/matron of honor is a huge responsibility. You're typically a hugely important person in the bride's life, which is beautiful – but that also makes you responsible for a lot of stuff. Not everything, though, in spite of what all those featured Bridezillason WEtv would have us think. To set the record straight, I put together the top 10 things every bridesmaid should do.
Every bridesmaid needs to be honest with her bride – but nicely! You have to let her know when, for instance, something can't be done, or when she's being too hard on another member of the wedding party, or when she's just kind of going a little crazy. The best bridesmaid, however, does this with tact; she's gentle and as understanding as she can be, but she's also firm and shows that she means business.
Ah yes, Miss Head Bridesmaid, this generally falls on your shoulders. Planning the bridal shower, finding the venue, sending out the invitations, etc., is pretty much your job, although the other bridesmaids can help, of course. I know this sounds like a lot of work, and it is – but just remember this: it's way easier than planning the entire wedding!
3.

Chaperone the Bachelorette Party
I know, the bride is an adult, she doesn't really need a chaperone … except that, yeah, she kind of does. Every bachelorette party is different, and not every bride-to-be is interested in drinking a ton at a bar, downing Cosmopolitans at a club, or sampling the talent of local male dancers – but some do, and there's nothing wrong with that. However, you're close to the bride, you're important to her, and you should try to do what you can to keep her from getting too blotto or from doing anything else she'll regret the next morning.
Planning a wedding is hard; being a bride is hard, period. There's so much stress involved. So as the bridesmaid, you want to be a calming force for your bride. Try to be soothing, to defuse high pressure situations, and to keep her comfortable whenever and however possible.
Part of that, however, means letting the bride vent to you when she needs to release some pressure. Sometimes, the bride has to – well, she has to go a little crazy. If you can keep her from letting loose on the caterer or the florist by letting her vent to you, so much the better!
6.

Defuse Bridezilla Moments
All the same, at some point, a Bridezilla moment is probably bound to happen. As a bridesmaid, it's your job to defuse that situation. I am reminded of the actual Bridezilla show, where a lovely little spoiled brat went off on her seamstress … and her seamstress's daughter … and her top bridesmaid was right there egging it on. Don't do that!
7.

Take Charge behind the Scenes
Behind the scenes, there's a lot you can do to help. That includes making sure the bridesmaids' dresses are in order and all the groomsmen have their tuxes. You can help with seating at the reception as well, plus dozens of other things that seem small but are actually monumental in helping to make sure the ceremony goes smoothly.
8.

Keep the Girls in Check
Sometimes the rest of the bridesmaids need a little help as well. It's not even the risk of fights behind the scenes, but again, they may need help getting their dresses than order, picking out a hairstyle, and so on. You can help the bride do all that, and in doing so, you can save her a lot of stress.
This is the fun part! Every bridesmaid should shop with her bride! This includes looking for the wedding dress and the bridesmaid dresses, of course, but you can also help her pick out the wardrobe for her honeymoon! It will be a great opportunity for you two to bond before the ceremony.
Finally, it is the bridesmaid's job to tear up when she sees her girl walking down the aisle – or when she finally finds that perfect dress. Basically, your job here is to bond with her, to be emotional with her, and to be touched by her. That's your friend! And she's getting married!
Different brides require different things, of course. I think mostly, if you're a bridesmaid, you just need to be there for her in every way you can. What do you think a great bridesmaid should do?
Top Photo Credit: dave_apple
{{#comments_count}} Show Commnents ({{comments_count}}) {{/comments_count}}